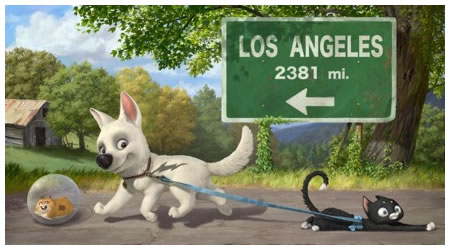 I just watched this cartoon couple days ago, and I really liked it. Some people think that cartoon is only for kids, but I disagree with that. You can learn some moral lessons from kids movie. This aspect is gone for most of the movies lately though. They are, most of the time, full with violence, sex, and hatred. May be this is why our young generation now is full with violence, sex, and hatred nowadays. It's all because they have been indoctrinated with those idealisms by what they watch everyday.
Here's Bolt's (2008) Trailer:
Ok, you might have or have not seen this movie. It's fine. I just want to share with you what lesson I learned from this movie. If you decided to watch it, that's great. I also provided the Amazon link at the bottom of this page for you to check out.
Be real

. How many times in our life do we not able to accept the reality around us? Everyone is created differently by God with different purposes in their life. Some of us are poor, but some are rich. Some of us are smart, but some of us are just average. If we are poor, don't pretend to be rich, and if we are just an average student, don't pretend that we are a genius. God has made us unique inwardly and outwardly. Even though everyone has weaknesses, everyone also has strengths. So, if you are weak in one area, don't worry. You must be strong in some other area. Those strong points of yours may not be obvious, so you need to know yourself well enough to find those strengths. Like in the movie, Bolt always thinks that he is a SUPER DOG. He possesses super power, laser beam, and super bark. He feels that he is invincible. It took him a while to realize that all of them are fakes. He was down for a little bit; however, he is back on his foot, reassess his conditions, and do whatever he needs to do to save Penny. He might not have super power, but he has a big heart. He is just a normal dog, but he is brave. Bolt's bravery allows him to save Penny at the end of the movie from the fires. He also use his normal-average dog bark, not his super bark, to save Penny by barking through the pipe to alert people. So the lesson here is be real. Know your strengths and weaknesses, and use your strength to their fullest capacity. Don't let your weaknesses bog you down.

Be a faithful friend

. Bolt was thinking to abandon Penny, but Mittens convinced him to go back to see Penny. Bold finally agreed, but he wants to go alone. Mittens finally caught up with Bolt after Rhyno convinced her to help Bolt. Rhyno knows that this is when Bolt needs his friends the most, so he and Mittens are trying their best to catch up with Bolt, no matter what the hindrances are. This true friendship are so rare lately. Usually, when trouble comes, all your friends are gone. Why? because they only stick with us when all is well, when trouble came, they want to stay away from us as much as possible, so that they won't suffer also. Let us learn something here. Treasure your friends. It is hard to find good and loyal friends. When you found one, be faithful to them. Help them in time of need.


Proverb 18:24 "A man that hath friends must shew himself friendly: and there is a friend that sticketh closer than a brother."

Be willing to learn

. It's actually kinda funny to see how Bold was so clueless about what real life is. He didn't know how it feels to be hungry, what pain is, how blood looks like. He doesn't even know the basic things that dog does, like fetching and playing with other dogs. But thanks to one faithful friend, Mittens, she helps him to learn all of that. It must be really hard if that happens to us in real life. Imagine that we are clueless about things in this life, and we have to learn everything from scratch. It would be hard and takes a long time. But Bolt perseveres, he just keep learning. How many times we are quitting from learning something? I remember when the first time I learned to ride a bike. It was hard, but I kept trying; until finally, I was able to ride a bike well. It may be a new software that you need to learn in your workplace. It could be your supervisor, classes that you take, or your broken computer. Whatever it might be, you have to be willing to learn. Learning to use new software, learning to understand what your supervisor likes and dislikes, learning all the new concept in your classes, learning to fix a computer. It will take time, but if you are patient enough, you will be able to do it, whatever the case might be.