After battling with myself for almost a year whether to get a netbook or not, I finally came to a conclusion 3 days ago, and that was to buy this bad-ass netbook, ASUS 1018PB-BK801. You may have seen this model before from Engadget; however, the ASUS 1018P that I got from Best Buy was not exactly the same with the one that Engadget described as a netbook with Intel Atom N455 and USB 3.0 ports. Apparently, Best Buy came up with their own version of ASUS 1018P, which is 1018PB. The model looks the same. The only different was the internal specifications. And for now (as of 07/15/2010), the only place you can get ASUS 1018P is from Best Buy in-store only. Their online stock for ASUS 1018PB is on backorder now.
FYI, I actually considered also ASUS 1005PE, ASUS 1005HA, and Toshiba Mini N305. But, I finally decided to go with ASUS 1018P (1018PB in this case). It doesn't get as long as 14 hours battery life like in ASUS 1005P, but I don't think I will use my laptop without plugging it in to power outlet that long either. The biggest plus point for ASUS 1018P is its unique design. As far as its capabilities, it is about the same like other netbooks.
ASUS 1018PB-BK801 Specifications
Intel Atom N450 1.66Ghz
Operating System: Windows 7 Starter Edition
10.1 inch display screen (1024×600)
1 Gb DDR2 memory
250 Gb HDD
3 USB ports
Wireless B/G/N
10 hours battery life (4 cell Li-on battery) – ASUS Li-Polymer Battery Pack C22-1018. Rating: +7.4v, 6000mAh, 44Wh.
Price: $350
Pros:
Sleek aluminum design

. Check out some pictures of my ASUS 1018P below. You'll see how sexy this netbook is.
Really

thin

(0.9″) and

light

(2.4 lbs.)

Long battery life

. I got at least 7 hours of battery with normal usage (browsing, streaming videos, and word processing). Best Buy's website says that it supposed to last for 8 hours and 16 minutes.
It actually can

play online streaming videos well

. I'm talking about 360p videos here. It can play 480p just fine, but you will find slight choppiness here and there. When I was in Best Buy, I also tried out ASUS 100PEB, which is one of the one I considered also, and it played online streaming videos really poorly, especially if you are playing 480p videos. It was really lagging.
It has a

webcam lens cover

that you can slide on and off. This is really good if you want to cover your camera for quick without having to turn off the camera completely, just slide the cover.
Cons:
Battery life meter is unstable

depending your usage. I guess this is understandable. When you start working on something heavy on your netbook, the battery life will drop. Under normal use, the battery life will back up again to what it supposed to be.
The left and right mouse clicks 

were little bit stiff

. You have to press it hard when you want to click something.
Microphone original settings was not really good. (see "Microphone Quick Fix")
As you know with Win 7 Starter Edition, you can't change the desktop background, which I think ridiculous. Luckily, ASUS provides you with the solution for that. Along with its ASUS Eee Docking, ASUS provides you with its own System Utility Setting add-on which you can get at ftp://ftp.asus.com.tw/pub/ASUS/EeePC/Utility/SystemSetting_Setup-1_1_0_8.zip to change your desktop background in Win 7 Starter Edition. This add-on is only working for ASUS computer, so if you are trying to install it on other brand computers, I don't it will work.
Some software that you might need for your netbook:
My old ASUS N61JQ-X1 will no longer feel lonely now. It found a new friend, ASUS 1018PB-BK801. Man…I got dizzy now with all these model numbers in my head.
[UPDATE 07/19/2010] – Microphone Quick Fix
I was testing my microphone for skype call today, and it was awful. My voice sounds too "crispy." I don't know how to describe it, but it was not good. To fix it, go to your Microphone Properties -> Enhancement. Its original settings were to set Immediate Mode, DC Offset Cancellation, and Noise Suppression on. Now, change your settings into the settings bellow. It should fix the problem.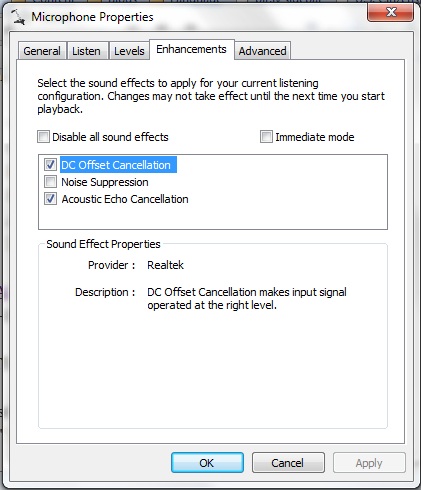 Picture Galleries