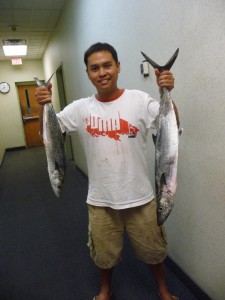 Yesterday was an amazing day, simply because I caught my first King Mackerel. 🙂 If you were following my blog, you can tell that I just started fishing seriously about 5 months ago, so I'm not really "that" expert. However, I have a mentor who teaches me different kind of things in fishing. He has fished for many many years and landed different kind of fishes (tarpon, blue, red, bass, king, spanish, etc.) Therefore, at this time, I am just going to share what I learned from him. It's not going to be everything that he taught me, but at least, they are going to be enough information for you to catch your first King Mackerel, like I did. Keep in mind, the information is more related to Pensacola Beach Pier fishing, since that's where I usually fish at. Here we go:
Make sure you have the proper equipment. I'm using Okuma Avenger 65a which has about 310yds using 15lbs lines and a Shakespeare Power Rod with medium heavy action that can hold up to 30lbs line. Your equipment is REALLY important in catching King Mackerel. Catching a fish is one thing, and landing a fish is another thing. With lighter rod, you can still land a King, however, the amount of energy and effort you put into it is much bigger than if you were using a good rod and reel. Another thing is you HAVE to use a leader line. King Mackerel has a really sharp teeth that will cut of your regular line, so use a leader wire. For the hook, use a size 4 treble hook.
For the bait itself, nothing is better that cigar minnows. Use a whole cigar minnows as the bait. It doesn't matter if if it was previously frozen, or a live one. Both will work just fine.
Before you cast, set your drag rather loose as a preparation to fight with the fish.
When you cast, you might want to cast to further away from the pier, because the closer your bait is to the pier, than the bottom feeders will chew out your minnows. Sometimes, a remora might grab your bait and got hooked. So, try to cast far from the pier, and occasionally, reel in your bait to make sure you have tight lines and keeping your bait from sinking to the bottom of the sea.
After you cast, open your spool and hold your lines on your index finger to hold your line. The idea is this. You don't want the Kind to feel any resistance when he grab your bait, because it will scare them and make them chew out the bait, so having an open spool will prevent this. When the Kind ate your bait, let go your finger, and let him take up your lines from several seconds. The purpose for this is to make the King swim away from the pier, because you are going to fight with him. If he is close to the pier, he might tangle your lines around the piling and you end up lose your fish and your lines. Also, sometimes, the King will only eat half of the minnow in his first attempt, he will go back again to grab the other half (hopefully….), so just wait until he takes away your lines and hold for several seconds until you are sure that he took all the bait along with the hook, and then, you close your spool and jerk your rod up high in 90 degree angle to set the hook onto the King (this is the most fun part 🙂 because you can hear your reel "singing" You'll know what I mean). Since your drag was set little bit loose, the King will take up your lines quite a bit. This is fine, just make sure you hold your rod up high in order to tire the fish. Tighten your drag little bit more as the King takes up your line (pay attention to your lines. Don't let the King spool you).
After a while, the King will be tired and you can reel in little by little to land the King. It will still fight along the way, just make sure you tighten up your drag, and work the fish little by little until it gets closer to the pier. Hopefully, there will be someone around you who has a gaff to pull up your King, because you might snap your line if you are using your lines to pull up the fish. While you are waiting for someone helping you gaff the King, make sure you pay attention not to let the fish to wrap around the pile, it will mess you up for sure. Tighten up your line, don't let any slack, and force the fish to stay away from the pilings. You should be good then.
After you land your King, CHECK to make sure it is at least 24″. That's the rule here in Florida. If it is less than that, you have to throw it back to the water. Also, you can only keep 2 King Mackerels per day. I know your adrenaline will be pumped up to catch more than 2 Kings, but rule is a rule. Don't break it. If you do, they will fine you, take you to the court, and take away all your fishing gears.
That's it. Hopefully these tips and tricks will help you to land a King Mackerel. My best luck for you. Luck will help you catch the fish; however, to land a King, there is no luck involve, it's just pure skill, so don't blame your luck if you lose your King. 🙂 Happy fishing!