Are you going to go for Black Friday shopping this year? If you are, let me help you a little bit.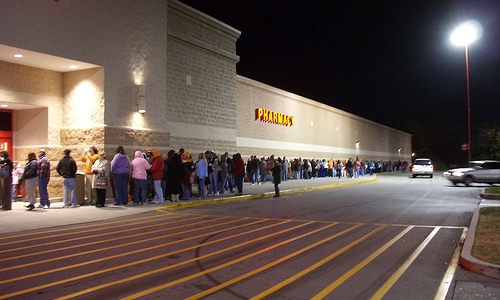 If you were one of these people who were waiting in line, you know the frustration when it comes to Black Friday shopping. For my experience, the key here is to know WHEN the store is open and WHAT are being sold.
WHEN the store is open…..
This is really important so that you can get in line early enough and beat the other people. You can also hop between stores if you can manage your time wisely to get the things that you want to buy, because more likely, you can't get all the stuff that you want from only one store.
WHAT are being sold…..
Without knowing first what is being sold in a store, you are just "blind" shopping. The chance is that you won't get all the good deals, because while you are waiting in line, people around you have already known what they want to get and specifically target those items when the store is open. So…the answer is to list the stuff that you want to buy, and find stores that carry those items with the lowest price. Once the store is open, you directly hit those store and go to where those items are. If you are not fast enough, someone else is going to snatch the items from you. I know…world is tough 🙁
Well…the question now is how do you know WHEN the store is open for Black Friday sales and WHAT are being sold there? I have great news for you. One of my friend just sent me this excel file containing all the deals from all stores around US as of 11/23/10 – 3:30pm CST, so I want to share it with you.
Black Friday Buying Guide 2010
Thanks to @martabakeju and akelnat@gmail.com.
If you like this post, please share it to your friend on Facebook or re-tweet it. Happy Thanksgiving and happy shopping!!!