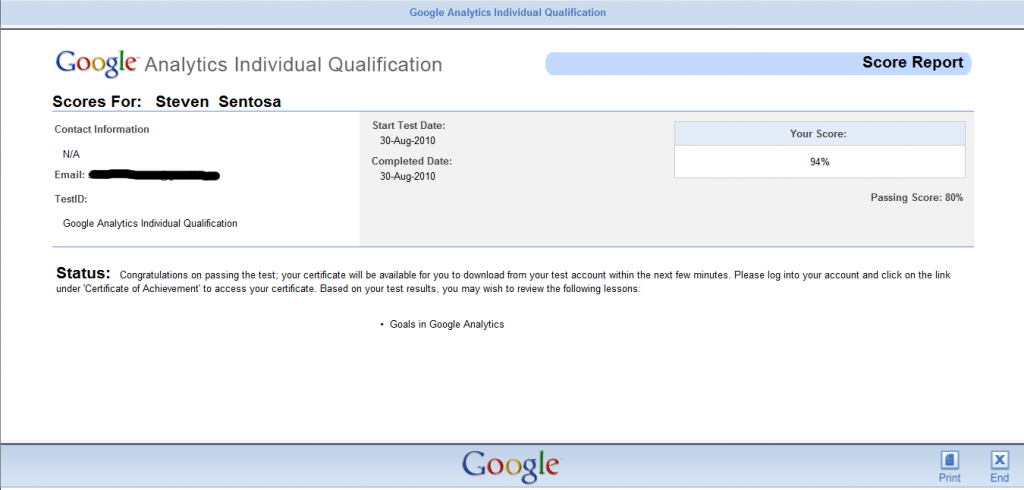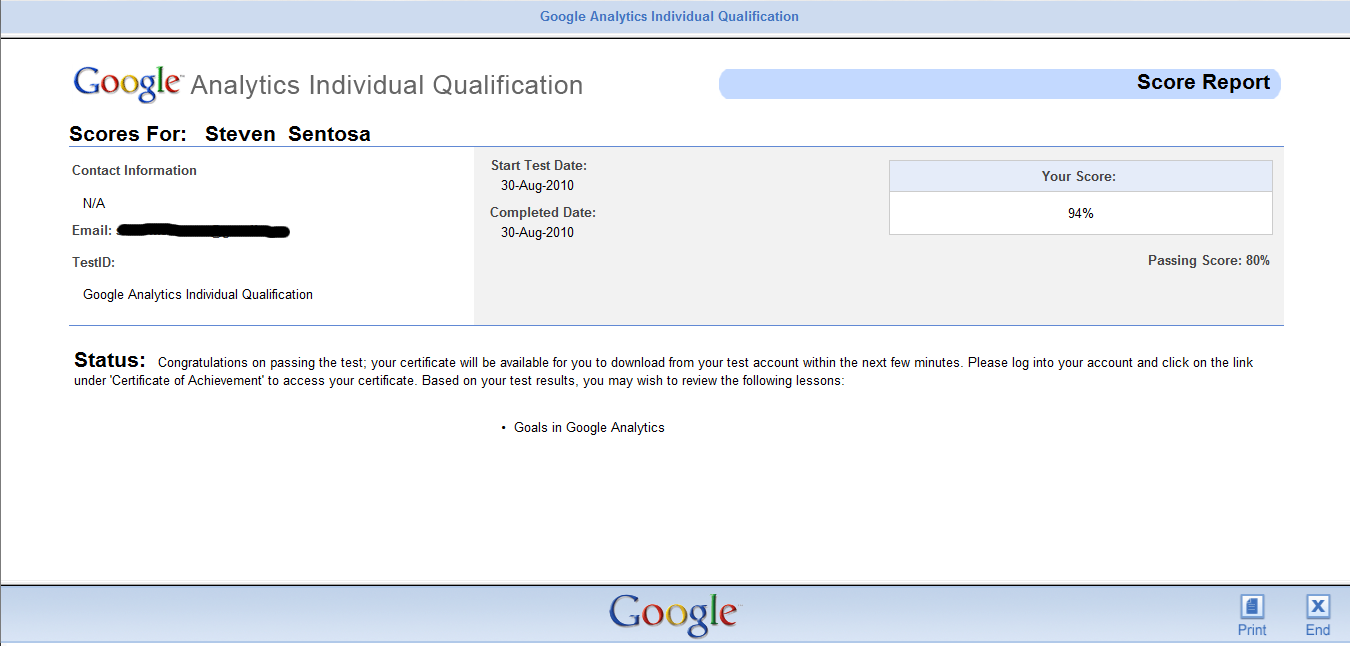 It has been a long time that I wanted to take Google Analytics Individual Qualification (IQ) Exam, but I couldn't take it until recently. Most of the reason were time and the courage to bite the bullet and do it.
Google Analytics IQ allows individuals to demonstrate proficiency in Google Analytics. It covers web analytics techniques and Google Analytics implementation, administration, and analysis tools.
So for those of you who were preparing for Google Analytics IQ Exam, I would like to share some tips. I'm not saying that you would get 100% after following my tips, but at least you would get 94% (just like me). Without further ado, let's dive in.
Google Analytics IQ Exam Format
First you need to know the exam format. You could take Google Analytics IQ Exam online at http://google.starttest.com/ Here, you need to purchase "Google Analytics Individual Qualification – US English" package for $50. If you get a voucher coupon code, get it ready when you are about to pay for the exam. The Google Analytics IQ Exam itself contains 70 multiple-choice questions that you need to answer within 90 min (1.5 hour). In order for you to pass this exam, you must score 80% at the least. You needed only 75% to pass the exam in the past, but Google has changed it.
If you want, you can pause the exam and come back to it later for multiple times, as long as it is still within 120 hours (5 days) after you started the exam. You could also marked questions and go back to them later while you are taking the exam. After 90 min elapsed, Google Analytics IQ Exam window will stop your activity and grade your exam.
Multiple choice questions could be tricky, especially when it asked you to choose more than one answer, so really study the materials first until you really understand the theory, the reason behind it, and its application.
Google Analytics IQ Reference Links
Second, it is an open book exam where you can gather all information from any source and use them while taking the exam, so I would like to list several links that would be really helpful both for learning and reference while taking the exam.
Google Analytics IQ – Learning Focus
The exam was pretty thorough in covering all materials about Google Analytics, so the learning focus here is more about topics that I wasn't really familiar when studying for the exam. You might already know the topics below pretty well, but if you were a newbie like me, you would probably need to focus on these topics.
E-commerce tracking – method used to track e-commerce transaction, when to use e-commerce value and goal value
Filter setup – Regex for IP exclusion and link parsing, match type, order of execution
Cookies – type of cookies, expiry
Multiple domain and sub-domain tracking
URL tagging – what tags being used and how to use them
Pageview and event tracking – which one is better, how to set them up
Google Adword integration
If you are serious about taking the exam and dive-in deeply into Google Analytics world, I would recommend you to buy these two books from Avinash Kausik and one book by Brian Clifton.
Conclusion
At the end, it all depends on how well you prepared for this exam. I was preparing for about one week to take this exam. Some of you might need more time, and some of you might need less time to ace this exam. One thing that will help you is to take this exam during quiet time when you won't be disturbed by your surroundings or other tasks. You need to realize that you are under 90 min time limit here. I know that you can pause the exam, but if I were you, I want to finish the exam once and for all. I mean…it took me 30 min to convince myself to begin the exam, so I don't want to go through that "mental agony" again. You want to finish the exam in one take, while all the materials are still fresh on your head.
I would also use this time to thank you several websites that helped preparing me for this exam: Danny Ng, WhiteRabbit at Thinkerati.com, and Heidi Strom Moon. These fellas helped me to muster up my courage to take this exam. Granted this exam is not SUPER comprehensive like a CPA exam; but still, this is my first certification ever…so it's a big deal for me. My hope is that I can guide you along to the right direction just like these websites did for me.
If you passed the exam, you will receive a Google Analytics Qualified Individual digital certificate like the one below. Good luck with your exam. I hope I can help you little bit in preparing for it. Let me know how it goes for you. If you took the exam before and think that I need to add something to this preparation page, feel free to leave comments below.