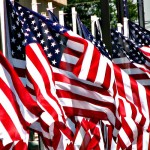 Tomorrow, 4th of July, is a big day for all the Americans. We are going to celebrate the Independence Day. Some of you will travel and meet your families, some of you will watch the fireworks show, and some of you, including me, will have nothing to do tomorrow. You are just relaxing and hoping the weekend will go for eternity.
Whatever your plans are, you need to remember again what Independence Day truly is. Here's a YouTube video to remind you to some of the famous quotes given by the previous US presidents and to give a tribute to those who sacrificed themselves for the freedom that we enjoy every day in US. Happy the 234th birthday for US!
Photo courtesy of Irish Shreve Garrott and video courtesy of TaylorX04.