My long-awaited bluetooth headset was finally arrived. I have been wanting a good bluetooth headset, but I have never found a good deal so I have never bought it, until recently.
I found this deal on ecost.com where you can get Jawbone Icon (the Thinker series – black) for $48.99. Do you know how much is the suggested retail price for this bluetooth headset? It's $99. Check out here to get the deal http://www.ecost.com/Detail.aspx?edp=56242885&navid=155441519

Knowing that I got a good deal here (50% discount), I went ahead and bought it. There are couple things you need to know though before you buy this Jawbone Icon from ecost.com. You will not get the retail package like this one.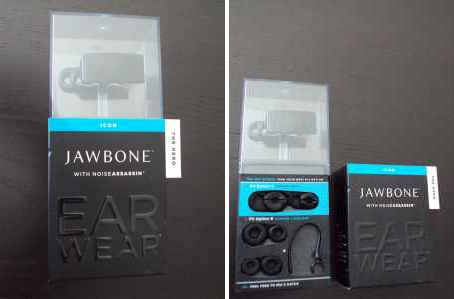 Instead, you will get something similar to this.
On this one, you will only get wall charger, micro USB cable charger, Jawbone Icon headset, ear hook, and 1 earbud. You are actually seeing 2 earbuds here, because the clear one (the black one was originally from Jawbone) was a Jabra mini eargel from my Jabra headset.
You might wonder why do I use Jabra earbud for a Jawbone headset? The answer is because Jawbone's original earbud is really not comfortable. Plus, the original one seems pulling the headset away from my cheek, which is not good if you want the NoiseAssasin to work. After doing some research, I found out that Jabra mini eargel is the best replacement for Jawbone's original earbud. It fits just fine and gives more comfort than the original one. I was kinda lucky because I had Jabra headset before, so I don't have to buy another one.
Also, I just subscribed to Jawbone MyTalk. It's kinda neat. You can update the software inside Jawbone Icon through Jawbone Updater application. This means you can add more functionalities to your Jawbone Icon headset. For example, I just added A2DP function to my Jawbone Icon. Now, I can listen to podcasts or songs from my Jawbone headset. You could also change the default audio in your headset to 6 different voices (your headset can tell you how much battery remains, incoming call, etc.)
Overall, this is the best headset I have had so far (compared to Jabra and Cardo Scala). Audio quality is good and NoiseAssassin works great.
Are you using a bluetooth headset? What is the best bluetooth headset in your opinion? Why? Is it because of the price, features, size, look, or any other reasons?