Suatu hal yang sangat dinanti-nantikan oleh seluruh warga Jakarta, bahkan seluruh warga Indonesia baik di dalam maupun di luar negri adalah debat calon gubernur (cagub) DKI Jakarta yang akan diadakan 3 kali pada tanggal 13 Januari 2017, 27 Januari 2017, dan terakhir pada 10 Februari 2017.
Menurut Ketua KPU DKI Jakarta Sumarno, debat cagub kali ini yang akan diadakan besok akan bertemakan "Pembangunan Sosial Ekonomi untuk Jakarta."
Debat pertama akan diadakan di Hotel Bidakara, Jakarta dengan sub-topic yang sebagai berikut: lingkungan, transportasi, pendidikan, dan tentang keamanan warga.
Jalannya debat cagub ini akan di moderasi oleh seorang moderator, yaitu Dwi Noviratri Koesno, atau yang lebih akrab dikenal dengan Ira Koesno.
Selain moderator, jalannya debat cagub ini akan ditemani pula oleh empat panelis yang adalah DR Imam Prasodjo (dosen Universitas Indonesia), Prof. DR. Aceng Rahmat, M.Pd (dekan Fakultas Bahasa dan Seni Universitas Negeri Jakarta), DR Yayat Supriyatna (dosen Universitas Trisakti) dan DR Enny Sri Hartati (direktur Institute For Development of Economics and Finance).
Jika anda ingin mengikuti jalannya Live Streaming debat cagub DKI Jakarta 2017 yang pertama ini, akan ada 3 stasiun TV yang akan menyiarkan nya secara live yaitu Net, TV One, dan Jawa Pos TV pada pukul 20.00 WIB
Debat kedua pada tanggal 27 Januari Metro TV, MNC Group dan TVRI yang melakukan siaran langsung.
Sedangkan debat ketiga pada tanggal 10 Februari 2017 akan disiarankan secara langsung oleh Kompas TV, CNN Indonesia TV, Trans Group, dan Jak TV.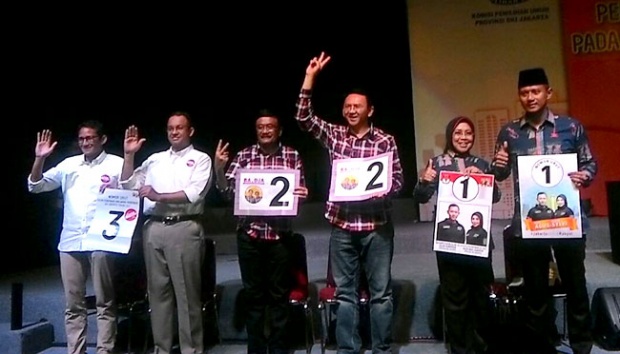 Jadi calon manakah yang akan anda dukung?
Pilihan 1: Agus-Sylvi
Pilihan 2: Ahok-Djarot
Pilihan 3: Anies-Sandi
Mari kita doakan agar Jakarta dapat dipimpin oleh seorang gubernur dan wakil gubernur yang baik, benar, dan visioner.