Arggh…I can't believe it. Rueben Morgan and his Hillsong team will perform live just 5 minutes away from my house a week from now, and I missed the chance to get the ticket since it's already sold out.
They will perform for their "A Beautiful Exchange Tour," Saturday, 24 July 2010 at Mount Pisgah United Methodist Church and the ticket price is $25.
This live performance is actually to promote Hillsong's latest album "A Beautiful Exchange." Here's a preview of their album:
I have been imagining something like this, but I guess I just have to wait for another chance.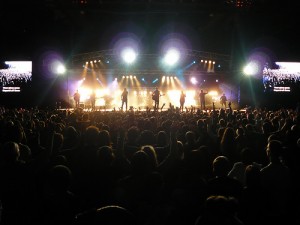 I have this crazy idea though, how if I go to Mount Pisgah church next week wearing my jogging outfit, ask them if I can go to their bathroom, and immediately slip into the crowd and watch the concert? hmm….sounds like a good idea, right? but I'm sure they are already prepared for that. Plus, I don't think it's the right way anyway, but I'm running out of idea here. Maybe you could give me some "good idea" here. 😉