In this past couple days, I have been playing around with WordPress 3.0 and decided to give the new theme "Twenty Ten" a try.
So far, I'm pretty pleased with the way it looks. It lacks the theme setup like those in Thesis theme; but overall, it is much better than WordPress' old default theme.
Also, since I was trying out a new tool called Windows Live Writer, you might see two new temporary posts in your RSS Reader. It will be something like this.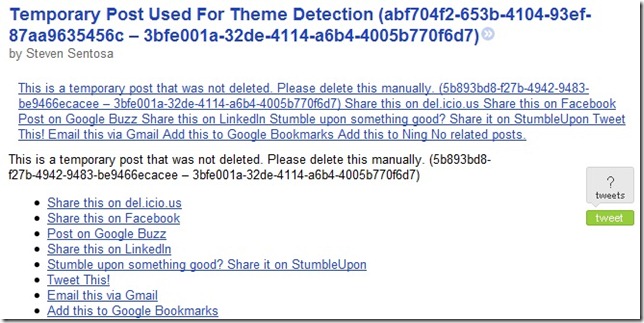 I'm really sorry about those temporary posts. When I was setting up Windows Live Writer, it apparently made two attempts to access my blog's native settings and look, and created  two temporary posts like these. Please ignore these two temporary posts.
Another main reason why I changed the theme was also because my old theme, Arclite 2.02, didn't seem to work well with Windows Live Writer. FYI, Windows Live Writer is a tool to access your blog from the convenient of your desktop software. Instead of going directly to the site's dashboard, all creating and editing of blog posts can be done through your desktop software. It also has the ability to preview the post right in the software, so I don't have to go back and forth, and refresh the preview page to see how the post look after I made any changes.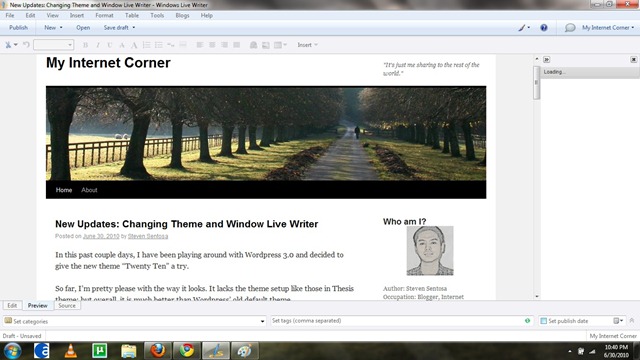 I  am giving Windows Live Writer a try now. I liked it so far. It's really easy to use. It has a lot of plug-ins, and I don't have to worry losing my copy again now when the Internet connection drops, because the draft post is saved on your computer instead online.
I hope you like the new look of My Internet Corner. As always, I welcome any feedbacks that you might have regarding this new changes.