Yesterday I went to Pensacola Pier trying my luck to get some King Mackerels. I started early in the morning around 7 o'clock. However, we fished for about 4.5 hours but we didn't get anything. Later at night, we tried to fish again and, in the beginning, we didn't get any, but once I switched from using cigar minnows to "Gotcha" lures, I finally got IT. Yup….it's a Spanish Mackerel. It's not a King, but Spanish is also a very good catch. I would never imagine to get a Spanish before.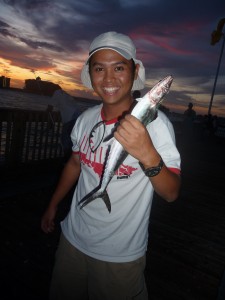 It was really tiring though using lures, because you have to work on that lure constantly to make the lure moves like a real and aggressive fish, but it paid off when I got that Mackerel. Among three of us that were fishing, I was the one that caught the first Spanish. One of my friend, Chang Hun, caught another Spanish after me, and my other friend, Irsan, caught another two Spanish, so we got 4 total. Plus, our other friend that we met there, Dan Shaver, gave us two of his Spanish that he caught because he didn't want to keep it, so now we have six Spanish Mackerels.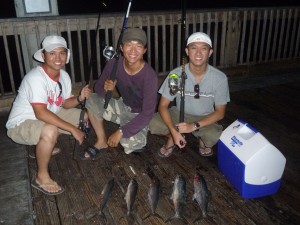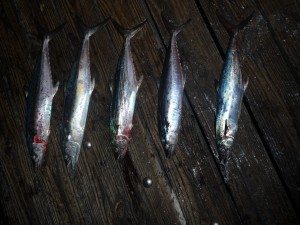 Today, we are going to BBQ all of these fishes and couple other things like pork, chicken wings and some vegetables. That was actually our other goal to fish yesterday, to catch some fishes to be BBQ-ed, which made us frustrated not to get anything in the evening, but we finally caught couple Mackerels, so we were so relieved. Well…hopefully our BBQ today will go as planned 😉 more updates about it later.
I can only say that I'm thankful for God to give me this new hobby of fishing. Not only we can eat what we caught, but it also reveals to me that God is always in control of everything. I don't know how many times I have gone fishing and didn't get anything. There was also other times that I caught tons of fish when I'm fishing. I know it depends on the skill, but it also depends on the weather and many other factors that can only be controlled by God. Isn't it amazing that we have a great God that always in control of everything?