It has been almost 2 years now that I'm using my Blackberry Bold 9000. I would say that it was a good device overall, especially for office uses, such as email and blackberry messenger. Other than that, it gets pretty boring. Now that smartphone era has come, my next phone options are just two, iPhone or Android.
After hearing so many good things about Android, I decided to switch my allegiance to the glorious Android phone, Samsung Captivate from AT&T (or some people knew it as Samsung Galaxy S or Samsung SGH-I897).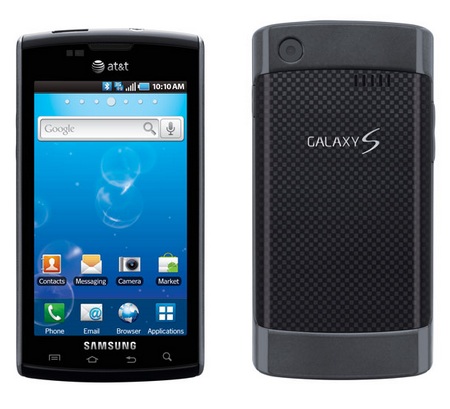 This is not my actual phone, but since I lost my camera, I can't take a picture of my own phone, other than using the phone itself, which is kinda impossible.
Here are the specification of Samsung Captivate (Samsung Galaxy S or Samsung SGH-I897).
Dimension: 64.2 X 122.4 X 9.9 mm (119g)
Screen: 4.0" WVGA(480×800) 16M SUPER AMOLED with mDNIe(Mobile Digital Natural Image engine)
OS: Android 2.1 (Eclair)
Processor: ARM Cortex-A8 (Hummingbird) 1GHz CPU Speed
Battery: Li-pol, 1,500mAh
Talk Time: 2G/ 769 minutes, 3G/ 391 minutes
Standby Time: 2G/ 750 hours, 3G/ 625 hours
Browser: Android Browser with Flash Lite 3.1
Camera: 5MP (back camera only)
Video Playback: HD Video Player & Recorder (1280 x 720) @ 30fps
Video Codec: DivX, XviD, MPEG4, H.263, H.264, WMV, VC-1
Video Format: 3gp(mp4), AVI(divx), MKV, FLV, H.263Sorenson
Music Format: MP3/AAC/AAC+/eAAC+/OGG/WMA/AMR-NB/AMR-WB/WAV/MID/AC3/IMY/FLAC/XMF
Memory: 16GB ROM + MicroSD(Up to 32GB)
So as you can see, this phone is one heck of a power horse. Its ability to play flash is also a big plus. It doesn't have a full flash experience yet. When Android 2.2 (Froyo) roll out, Flash 10.1 will be installed and we can then enjoy the full flash capabilities. But hey…FlashLite is still much better than no flash at all for now.
In my opinion, here are the pros and cons of this phone.
Pros
Fast processor and powerful graphic. It can even be overclocked close to 1.6 Ghz. Team Whiskey from XDA has proved this.
Super AMOLED screen. Things will just jump out from your screen.
Growing Android market. As of right now, Android market has around 100,000 apps, whereas Apple apps store is still leading with 300,000 apps. If Android market can reach 120,000 apps by Jan 5th, 2011, it will have the same growth rate compared to Apple apps store.
Smooth user interface. The time when I thought no device can be as smooth as iPhone is long gone now. Samsung Captivate is now able to give the same level of fluidness that iPhone offers.
High level of customization. You can do about anything you'd like with this phone, from flashing new rooms, root it (known as jalibreak for iPhone), USB or Wiereless tether, you name it. This phone is highly customizable, not like any other phones.
Cons
Battery life. With so much power within, Samsung Captivate consumes much battery power. IMPORTANT: When you first use this device, you will find that it can only last for 4-5 hours. Don't worry. It doesn't mean that your product is defective. Keep using your phone with full power cycle by using it until it gets to 1-2% battery power and charge it fully. Leave it charged longer even though the phone says that the battery is full. In my experience, after using it for a week, I start seeing some battery improvements.
It sometimes lagging. I found out that this is a common problem with Samsung Captivate. If you are brave enough, you can fix it as what described by Tested.com. However, I will wait for Froyo 2.2 OTA updates if I were you. The reason because the current lag fix update isn't compatible with the new Froyo 2.2 update, so you have to uninstall the lag fix first before you update your Android OS 2.1 to 2.2. For this reason, I will postpone the lag fix.
No sideloading allowed. It means that you cannot install any android apps that are not in Android market. I have a simple solution for this, which I will post in my future post.
In conclusion, I would recommend this phone to everybody. If you have been hesitant to get an Android phone, you have found the right candidate. It took longer time for me to make my decision because the fact that I can no longer use Blackberry Messenger, which I used a lot in the past. At the end, I think it was a fair trade. With all the good things that come with my new Samsung Captivate, I think I can live without Blackberry Messenger.
I'll be posting more Android-related information from now on, so stay tuned for my next posts.