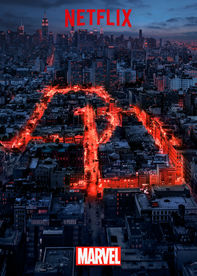 I have been a huge fan of Marvel series, and Daredevil is definitely one of my favorite characters of Marvel.
The 1st time I watched Daredevil in a movie was back in 2003.  That movie, Daredevil (2003),  was a perfect combination between Ben Affleck and Jennifer Garner.
This year, a new TV series that was developed for Netflix by Drew Goddard has just come out fresh from the oven, on March 10th 2015, for us to enjoy! This new TV series is called Marvel's Daredevil. This time, the main actor in this new Daredevil TV Series is Charlie Cox, who plays as Matt Murdock, a.k.a Daredevil.
Below is the trailer of Daredevil (2015) – TV Series by Netflix:
If you live in US, you can watch Daredevil online at www.netflix.com/WiMovie/80018294.
However, for those of you who unfortunately don't live in US, you can still watch Daredevil online also at various places, such as at http://www.solarmovie.is/tv/daredevil-2015/
For those of you who wants to download Daredevil online or download Daredevil torrent (to be precise), you can go to https://kickass.to/daredevil-tv38796/
For more detail information about Daredevil (2015) – TV Series by Netflix, please visit this Wikipedia page.
If you are a huge of of Marvel TV Series also, like I am, please spread the word and share this page to your friend so they all can enjoy the new TV series of Marvel's Daredevil as well.