For those of you who had a blog on Blogger (mine was in stevensentosa.blogspot.com) and want to import them to your new WordPress blog, I have an easy solution for you.
Do you know that WordPress has its own built-in importer for your Blogspot blog?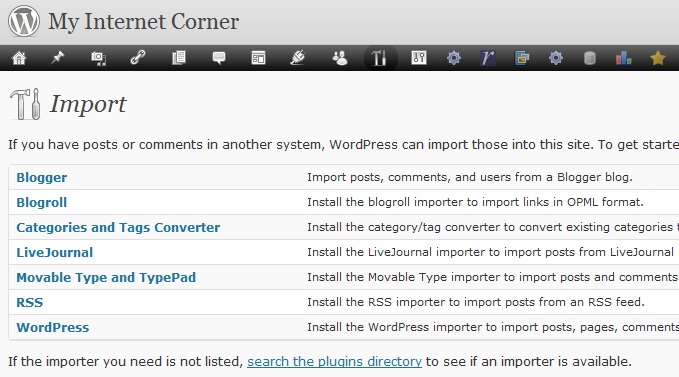 Go to Tools -> Import -> Choose to import from Blogger. Your WordPress will download a plugin called "Blogger Importer." It will ask you to authorize access to your Blogger account. After that, you will be presented with list of blogs in your Blogger account. Choose the one you want to import by clicking "Import" button next to whichever blog you want to import, wait until it finished downloading content, and click "Set Author." That's all to it. You are done. All your content from Blogspot.com will be imported to your WordPress blog.

One drawback was that you have to set the categories all over again. If your old and new blogs have same categories settings, you don't have to worry, because WordPress will map each new imported posts to their corresponding categories. However, in my case, since I have different category settings, I have to remap all my new imported blog contents to their right categories. It's not a big deal if you only have 100 new additional blog posts, like in my case. However, if you have thousand of new additional blog posts, it will be quite a headache.
Most of the old blog posts that I imported to here are in Religious, Funny and Cool Stuff category now and dated back in 2007 when I first wrote blog posts. Check them out. I found some of the posts were really funny and cool, like "Some Important Laws that Newton Forgot" and "Amazing Billiard Tricks". Since I posted them a long time ago, I didn't even remember that I have ever published them on my old blog. LOL.
I also found that some of the pictures from the new imported posts are not linked correctly, so some pictures won't show up. I will try to fix this gradually since they are so many posts. If you found one, please message me @StevenSentosa.